During May, I had a couple of days off work with a cold during which I made a rare visit to a LNS. The shop I visited also frames completed work and had a few framed pieces in front of the counter. Among these was a beautiful white drawn thread sampler that set me on the hunt for some drawn thread pieces to stitch myself.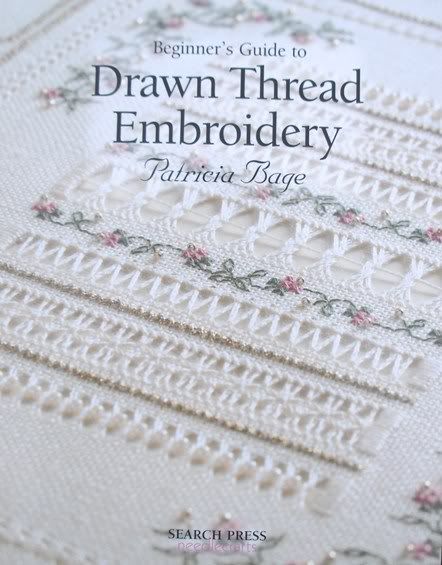 I had eyed this book up before, as I have tried drawn thread embroidery before, and I do like
Patricia Bage's designs
. This time I bought the book. Details of the book, including some page scans, can be seen through the publisher
here
or Amazon
here
.
The Drawn Thread techniques included in the book are Hemstitch over 2 and 4 threads, Ladder stitch, Zig zag hemstitch, Interlaced hemstitch, Interlaced hemstitch with beads, Diamond hemstitch, Herringbone stitch, Coral knots, Modified coral knot clusters, Woven wheels.
The embroidery stitches include backstitch, running stitch, double running stitch, cross stitch, three quarter cross stitch, Smyrna cross, double herringbone stitch, alternating Scotch stitch, four sided stitch, three sided stitch, Satin stitch, Satin stitch blocks.
There are four samplers in the book – Summer Garden, Roses and Lace, Flower Garland, Rosebud Trellis.
My only complaint is that sometimes the instructions seem rather over simplified. For example, this is the first book where I've noticed instructions for threading a needle! I do realise that the book is called a 'Beginner's Guide to Drawn Thread Embroidery', but I would be surprised if a complete beginner started drawn thread embroidery before trying other forms such as cross stitch. I would therefore expect readers of this book already to have a familiarity with basic techniques.
However, having read through the book, I do like the clear, detailed diagrams accompanied by clear instructions, particularly for the specific drawn thread techniques.
It remains to be seen whether I'll agree with these comments after stitching one of the designs!
But this is not the end of my purchases or of my stitching ambitions! Thanks to
ABE
, I now have the following to drool over.
I will definately be stitching the Wildflower Drawn Thread sampler, but I think I'll use one of the Patricia Bage designs to practice first! Now I only need to find some time actually stitch these ......