What could be sweeter than a punnet of raspberries, freshly picked?
My DH turned up at home the other evening with these, freshly picked from his alotment.
There's not a lot of stitching progress this week. I've started on the third of the Mill Hill kits, but due to all the beading, progress is slow.
I've also joined the
Heartfelt Friends RR
and am now waiting for my fabric to arrive to that I can work out my layout and make a start on my part of it. We're all stitching designs from
Little House Needleworks
and I'm planning to start with Through the Woods. I will have to amend the design slightly to fit in a box 100 x 100 stitches.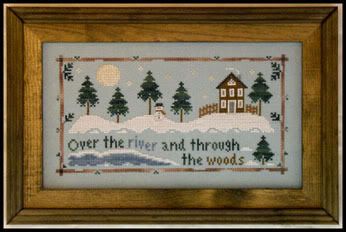 I'm really looking forward to taking part in my first RR, but goodness knows when I'll get back to my Chatelaines!
Thank you so much to everybody who posted such complementary comments on my little finish from last weekend. I'm so glad you all like it as much as I do!
Unfortunately, I'm slightlier busier at work these days and haven't been able to visit so many of your blogs this week. Hopefully I'll catch up before too long.