I finished my Part 2 of St Petersburg at the weekend, with 2 days to spare before part 3 is released tomorrow. That was cutting it just a bit too fine for me. I've decided I really don't like stitching to a deadline like that. By Friday evening I was just about sick of the sight of Algerian Eyelets and was relieved to get them finished and out of the way early on Saturday.
The deadline was entirely self inflicted as I didn't get started on part 2 until after I came back from Scotland on the 13th. And yes, I know that it's not compulsory for me to stitch each part of St Pete within the month when it is released, it's just me! If I can do it, I HAVE to, and I'll push myself to do it, getting completely stressed out along the way.
However, from a designer's point of view, 'deadlines' like this must be very useful. With a large project like St Petersburg, releasing the chart bit by bit ensures interest is retained throughout the length of the project. I suspect the 'drip-feed' approach in this way means more money for the designer.
I'm sure a lot of stitchers would be completely overwhelmed if handed a chart like this all in one go. The 'drip-feed' is therefore also beneficial to the stitcher.
And on the plus side for both stitcher and designer, one design successfully completed this way is likely to encourage the stitcher to come back for more, and to encourage more stitchers in to this way of working.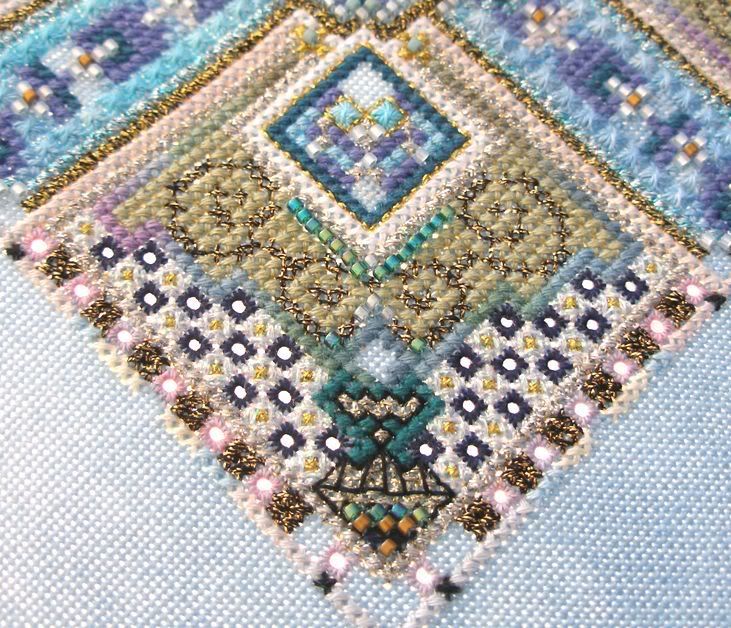 However, from my point of view, deadlines are all very well, as long as I have plenty of time to keep up with them. I'd never make it as a model stitcher!