I had a generous visit from the postman earlier this week as he delivered several packages, the best of which was a wonderful PIF gift from
Deb
. When I signed up for her PIF last year, she fully intended to stitch something for me, but I rather think real life has caught up with us both since then!
I took this photo of all the lovely goodies -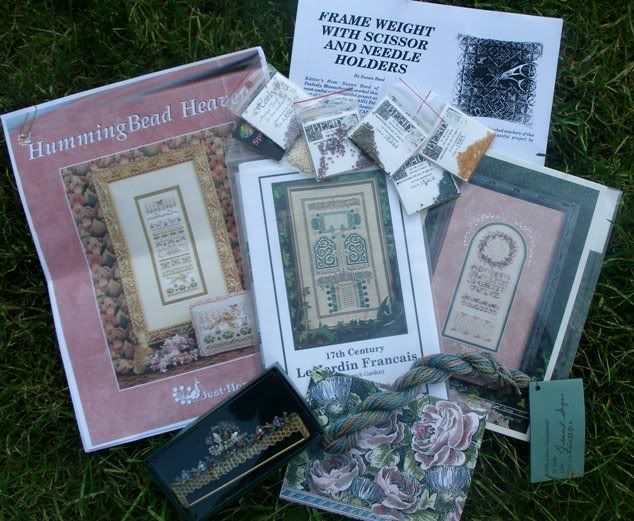 A Just Nan chart and bellpull end, a couple of other cross stitch charts and a needlepoint design as well as several packets of beads and some gorgeous Watercolors floss. It was only later that I realised that I'd missed one of the charts she sent from the photo. Rather than photograph everything again, this seemed somehow appropriate!
French Country Baby Sampler from JBW Designs modelled by a sleeping Iona.
Thank you very very much Deb! What a wonderful, generous gift. I'll definately be stitching up Sweet Dreams for Iona!
This week I signed up for
Lesley's
League of Geeks
! LOL - just a bit of fun! Up to 31 October, we're all competing to see how geeky we can be. Rather than turn this into a marathon blog post (and I seriously mean a blog post 26 miles and 385 yards long), I'll have to refrain from revealing my secret weapon until the start of next week - so much to blog about, so little time!
In the meantime, just how geeky is it to master the art of simultaneous baby feeding and web surfing? Or is that just extremely sad?
I think I've also finished setting up my new template. It's based on a template from
Simply Fabulous Blogger Templates
which
Ann mentioned in her blog
earlier this week. I'm really glad she did mention it too as I was spoilt for choice! And I'm just geeky enough to have managed to cobble together a version in Internet Explorer, rather than the Firefox it was originally intended for. I do think that, as there are so many different browsers out there, people should develop stuff that's not limited to only one.
Anyway, gotta go now as Iona's awake and while I may be competent at simultaneous baby feeding and web surfing (as long as DH isn't around) I haven't quite got the hang of simultaneously entertaining a baby and blogging!