This was Alexander's favourite game from the holiday (inspired by Mr Fyde, the science teacher in Captain Underpants). I had to keep a good stock of baking soda and vinegar!
We had Alexander's best friend over for dinner this week and Alexander was demonstrating. The friend was distinctly unimpressed - obviously not a geek then!
We've now got my Dad busy thinking of other simple sciencey experiments for Alexander to do. Apparently, Dad's having great fun with this task! And I've suggested to Alexander that we could grow crystals. However, Alexander seems to be under the impression that crystals mean diamond-type shiny things that are very valuable!
I've actually done some stitching, for a change, over the last few days and have finished off my latest biscornu, designed by me with the blackwork pattern nicked from a book. I call it my Tutti Frutti Biscornu.

Front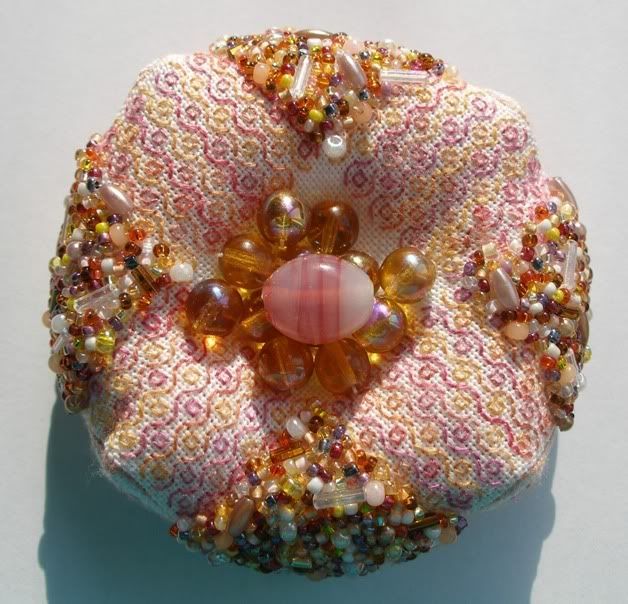 This isn't quite what I'd planned for this biscornu as I changed my mind midway. It then became an exercise in crowding on as many beads as I could in the space available using different shapes and sizes of beads. It was fun to do and I do like the end result!
So, for my Geeky Giveaway, how many beads do you think I've used on this biscornu? Leave me a comment with your best guess. I can't give you any clues as I've no idea myself. But if you leave a comment before the end of next Friday (3rd October), I'll send something I've made to the person who makes the closest guess. It won't be the biscornu, but it may well be something I've featured on my blog this year.