... my blood pressure, that is
It's been gradually going up and up over the last 2 or 3 weeks. This week it's got to the borderline stage where I'm having to repeat readings and rest in between. Not the simplest thing to do while I'm at work, but at least they're sympathetic.
Generally, however, I still feel fine, if very tired. I feel as if suddenly everything's catching up with me - I'm starting to realise just how tired I am and that I really need to slow down. Easier said than done, of course!
I just want to make it through to next Tuesday when I have my next hospital appointment. I feel that after that I can work out how to take things forward and start to think more seriously about stopping work.
Next week is also a big landmark for me as I reach the 34th week of my pregnancy. My son was born at 34 weeks, so if I get to 35, I will have been pregnant for longer than last time!
Anyway, with all that going on, I haven't been doing a lot of stitching. However, I did manage to finish this at the weekend (the knitted one, that is, the other one has to be a long term WIP! LOL).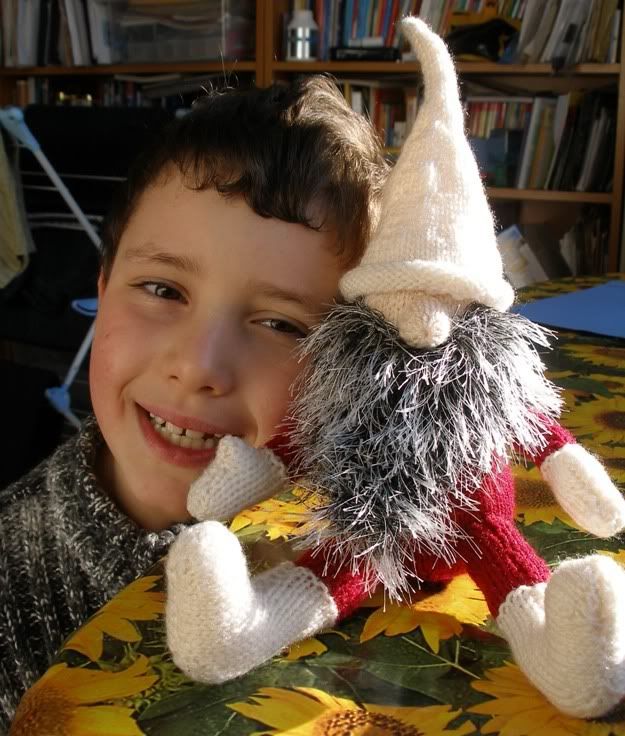 DS was rather pleased with him and couldn't wait to introduce him to the other knitted residents of our house.
Yesterday, I finally managed to get to the post office to collect my parcel from
Kae
in
Lucy Locket's Valentine Swap
. Look at all the goodies she sent me!
She's really spoiled me including a sock person, yarn,
knitted heart keyring
,
ric rac, ribbon and trims
, and
a gorgeous heart pendant
! And, of course, lots of yummy chocolate. Thank you so much Kae - I love it all!
I sent her a parcel of goodies last week which included this little fob/ornament.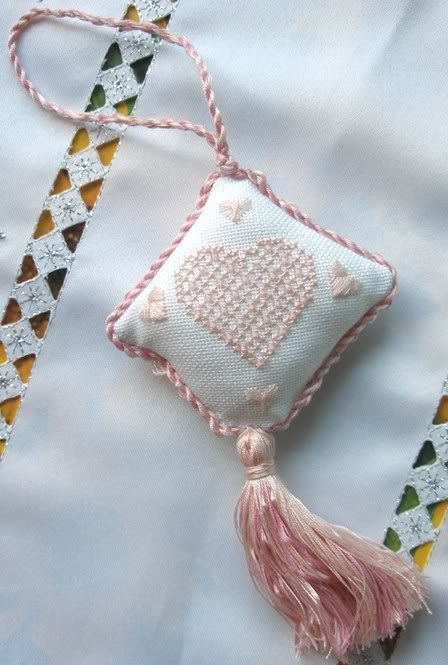 The large heart is based on one of the hearts from A Celebration of Love, the small hearts are just a couple of Rhodes hearts and a satin stitch/cushion heart.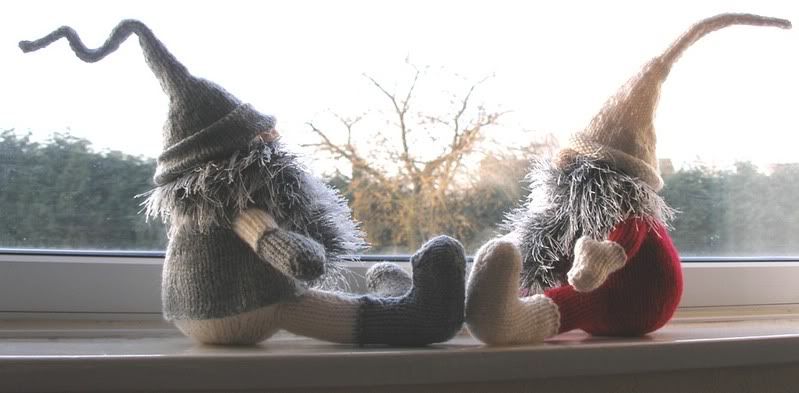 (Just including this photo 'cos I like it!)