I've been having a bit of an apathetic week, sleeping badly, feeling tired and run down, so I've been struggling to achieve anything much or find anything I feel like stitching or knitting or whatever. The exception, of course, is when I'm at work and I'd love to get out Nova or Paradigm Lost or MTM for the odd hour, or knit another limb for the latest gnome, or start another monkey! Unfortunately, by the time I get home, the enthusiasm just seems to have drained away.
I've felt in need of a new start, something fairly small with a variety of stitches for interest, but nothing too demanding. Thanks to the postman, I'll get that going this evening as I now have my fabric for '
A Celebration of Love
' which I'll be stitching as a ring pillow for my sister's wedding in May.
As a bonus, the postman also brought me my first set of Q-Snaps and I'm dying to try them out. Up until now, I've mainly used scroll frames and a hoop in smaller items. I'm looking forward to putting Paradigm Lost on the Q-Snaps as it's big enough to let me see how I can arrange all the extra fabric!
I was digging out some yarn last week to knit DS a gnome, and I brought this out with me to have a look.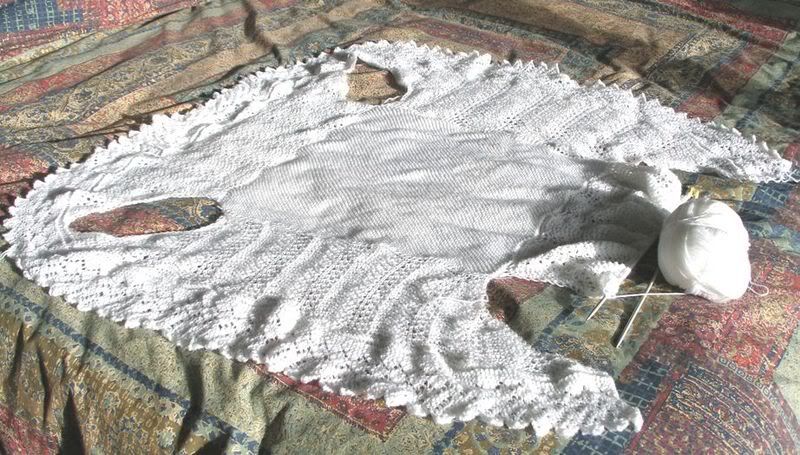 This is a shawl I started knitting for DS when I was expecting him over 7 years ago now, and have never got around to finishing. I have worked on it from time to time over the last 7 years and there really isn't a lot waiting to be done – just finish knitting up the one side and then complete the border. I really have no excuse for not finishing it.
However, much as I really would like to finish it, I have a sneaking suspicion that it certainly won't happen before this baby arrives!
Finally, the lovely
Deb
gave me a You Make My Day award. Thanks so much, Deb, I really appreciate it!
I'm supposed to nominate 10 blogs that make my day when I read them. However, I've seen this in so many different places over the last week or two, I'm not going to do that today.
Instead I'd like to make this award to everyone who reads my blog and leaves me comments – you all make my day. It's the communication with other bloggers, whoever and wherever you are, that makes blogging worthwhile and that's what it's all about for me. I really do appreciate everyone who takes the time to leave a message.