I finished stitching and 'signed'
Edgar's
RR last weekend and I'm rather pleased at how it's worked out.
As Edgar wants us all to include trees in our stitching, all the motifs are from LHN's Morning Berries. To be a little different, I've arranged them in a kind of band sampler layout because of the space available. I love the colours in this one and they really look great on Edgar's fabric. I really love how it's worked out. (My Mum was very impressed when she saw me working on it at Christmas.)
Here's the whole thing. I love the way Edgar has laid it out - it really will be something special when it's finished.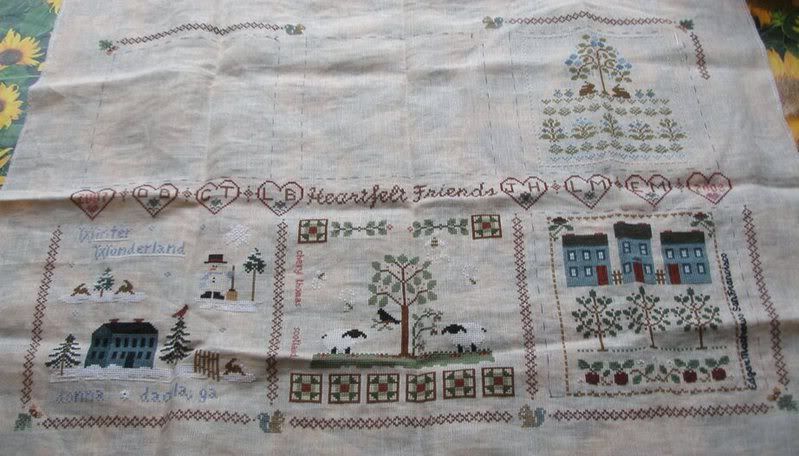 Edited later to add:
It's
Burns Night
tonight, so we're for haggis, neeps an' tatties with the neighbours! This'll be our third year of doing this and it's always a bit of fun. We never go as far as doing all the formal stuff involved in a
Burns Supper
, but have some traditional food and a few poems. The first year we did this, I got my DS to recite the first verse of
"To a Mouse"
.
So, in honour of the day, here's part of my favourite Burns poem:
When chapman billies leave the street,
And drouthy neibors, neibors, meet;
As market days are wearing late,
And folk begin to tak the gate,
While we sit bousing at the nappy,
An' getting fou and unco happy,
We think na on the lang Scots miles,
The mosses, waters, slaps and stiles,
That lie between us and our hame,
Where sits our sulky, sullen dame,
Gathering her brows like gathering storm,
Nursing her wrath to keep it warm.

This truth fand honest Tam o' Shanter,
As he frae Ayr ae night did canter:
(Auld Ayr, wham ne'er a town surpasses,
For honest men and bonie lasses).
This is the start of
Tam O'Shanter
. I really love this poem, the story and the rhythm of it. There's some background info on the poem on the BBC website
here
.
Jim Malcolm set it to music too
and I quite like his way of doing it.