I'm rather pleased with where I got to over the weekend as I achieved the goals I had set myself and even got slightly more done than I'd expected.
This one I'm particularly pleased with - I've finished part 3 of Chatelaine's Medieval Town Mandala!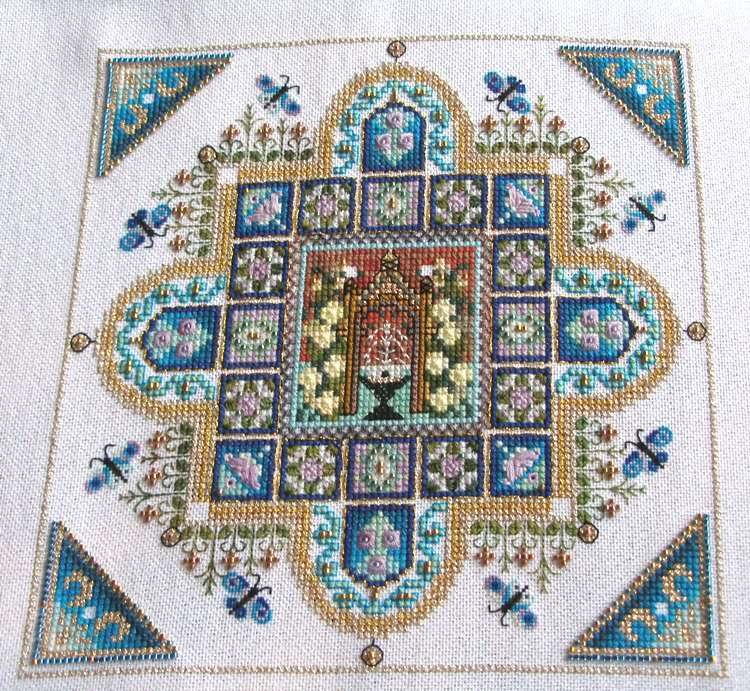 Isn't it gorgeous? I love all the beads and sparkle, and the turquoise colours are just beautiful. I'm looking forward to more turquoise in part 5! The over 1 butterflies were a nuisance to stitch, but well worth it. Did you know that it takes longer to frog one of them than it does to stitch it in the first place? LOL I managed to get one of them a stitch too close to the grasses so didn't have space for the bead flower underneath. That was one mistake I couldn't ignore.
I'd love to keep going with MTM for now but have switched to Paradigm Lost this week as I'd like to keep adding to it fairly regularly. I'll also be getting
Lizzy's
RR to stitch on before too long.
But MTM is still calling to me - can't be a bad thing!