No stitchy pics today as my stitching since the middle of last week has been on my square for
Julie
in the
Fair and Square
exchange. So no pics until she's received it.
I've also been busily planning what I'm going to stitch on Cheryl's RR and getting myself completely tied in knots over it. I know I'm worrying about this far more than I need to, but I've come to the concludion that I just won't be entirely happy with any of the ideas I've come up with so far. I've ended up today ordering a couple of new charts which I think I will be much happier with. As I said, I know I'm worrying about this far more than necessary, but it's just the way I am. Hopefully I'll be able to get started by the end of the week.
For the next few days, I might even find the time to stitch on one of my neglected WIPs. I was looking at my Chatelaines the other evening and feeling the withdrawal symptoms! So here's my chance to put in a few more stitches.
As there are no stitchy pics today, here are a few more from my holiday.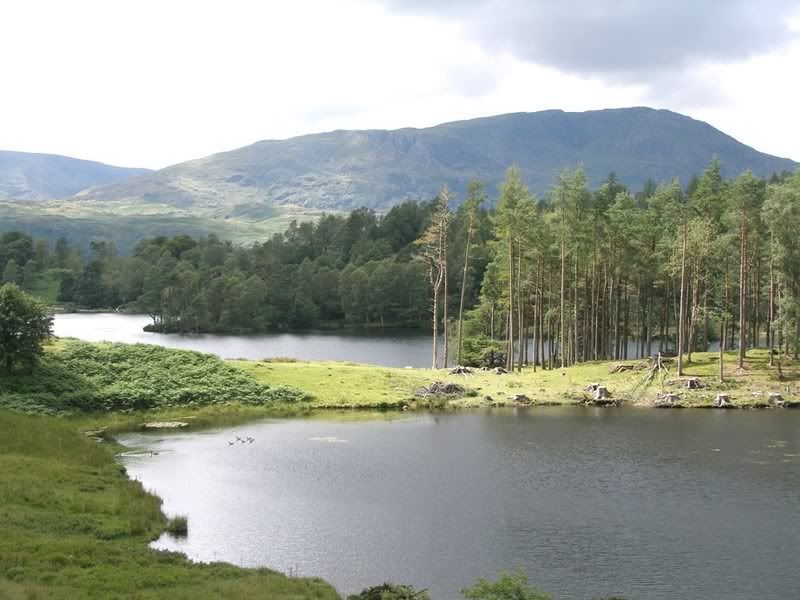 This is Tarn Hows which we walked round one day. I can just remember visiting this lake about 30 years ago, and swimming in it! On that same holiday, I also swam in Coniston. I have a feeling that at the time I was relatively new to swimming in such deep water.
My neighbour told me that Tarn Hows is one of those areas that used to belong to Beatrix Potter, before being handed over to the
National Trust
.