Since January, I've had this 'occasional project' on the go that I've been working on as and when I've felt like it, or when I haven't felt like working on anything else.
It comes from
this book
which I bought shortly after Christmas.
There are some wonderful embroidered boxes in the book as well as folded patchwork. There are boxes stitched with plastic canvas, fabric boxes using cardboard to make them rigid and boxes that use a mix of the two. I've found it quite inspirational for thinking about finishing some of my projects. For practice and to get a feel for making boxes, I've made the following sewing box from the book.
It's stitched on a number of pieces of plastic canvas which are then joined and lined.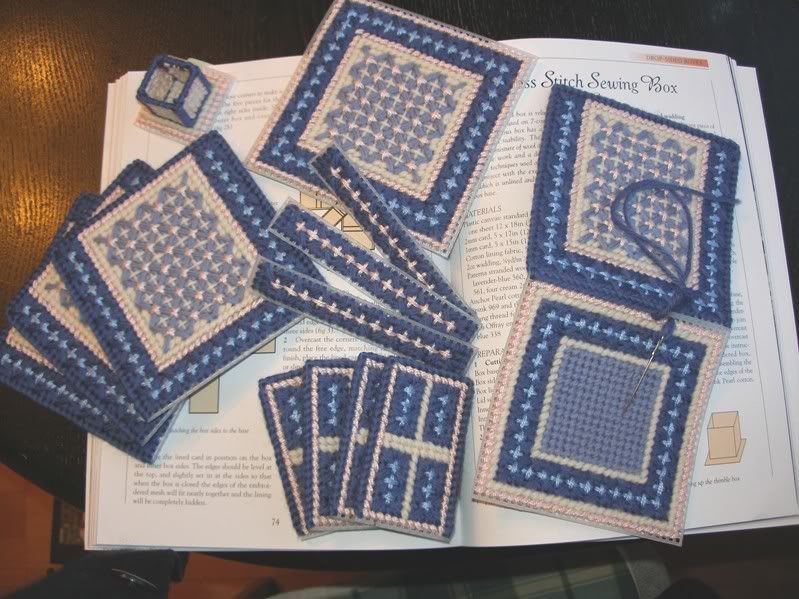 When the stitching is finished you end up with a number of pieces as shown above which you stitch together and line to make the following:
I'm rather pleased with it, but at the same time I'm more excited about the ways in which I can make and use boxes in finishing other items and I have big plans!
Thanks to everybody for all the wonderful comments on 'A Celebration of Love'. I've taken a lot of your suggestions on board and am looking at finishing it using a plain fabric which I hope will complement my sister's dress, but am also going to overlay it partly with lace. Unfortunately, I can't get hold of either fabric or lace from my sister's dress, I'm just hoping that the ivory fabric I've now got will roughly tone in and that I'll be able to make something which has the same kind of look. I might even get started on it later this afternoon! I'm also now tempted to make her a small matching trinket box!