I finish work today until the 7th January (hurray!) so, between now and then, I don't know when I'll get the chance to blog again or catch up with everybody. I thought I'd leave you with a photo of my Christmas tree, complete with knitted monkee in a Santa hat!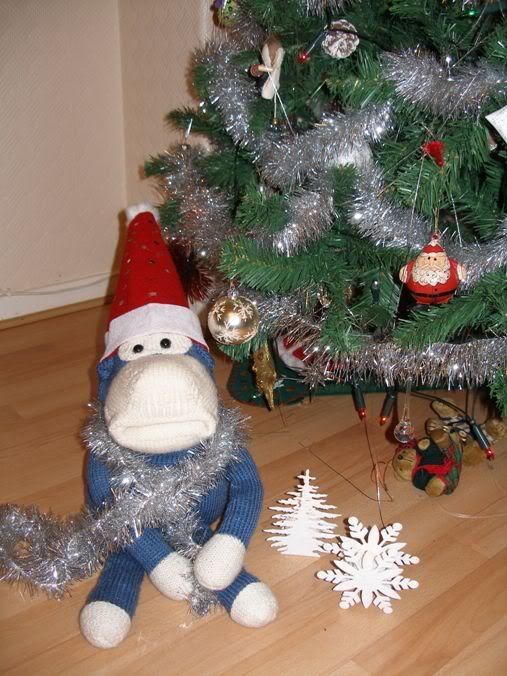 On Monday we'll be heading off up the M1/M6 to my parents' house where we'll be staying over Christmas and for most of next week. On our way. we have to stop off in Manchester at my sister's house to drop off presents and pick up my brother who is coming over for Christmas week from his home in Orlando (the one in Florida). I haven't seen him since last Christmas, so it'll be lovely to see him again.
I'm also looking forward to being back home in Scotland. Somehow, I find it easier to relax up there. The air seems so much clearer and fresher and the scenery is amazing.
This poor monkee doesn't look entirely happy with all the Christmas festivities, although I do think he enjoyed being permitted to scramble around in the Christmas tree.
I just have this sneaking suspicion that his is more of a 'bah humbug' sort of expression. Or maybe he's just tired. Poor thing.
So until next time, wishing you all the best for a Merry Christmas and a good New Year.