Had a great day at the Knitting and Stitching Show at the NEC last Friday. I've never been to anything like that before so I was really looking forward to it. I went prepared for the worst, ie. not being able to move for the crowds, but fortunately for me, it was not busy and I was able to wander round having a really good look at everything I wanted to see. I realise that this isn't necessarily good for the people with stands as they may not be able to recoup their costs, but from my point of view, it was ideal!
One of the highlights of the show for me was the
West End Embroidery
stand. I've admired many of the canvaswork designs on their website for some time and to see many of them in real life was amazing! The lighting on this stand was just fantastic. You get absolutely no idea from the website of the texture, colour and three dimensional nature of the different pieces. For me, the pieces by Orna Willis and Kick Back and Stitch (Terry Gifford) particularly stood out. There were also several copies of Susan Portra's Spirit of the Southwest showing several of the different colour combinations, a copy of which chart I had promised myself.
The stand next to West End had lots of Mirabillia and Lavender & Lace designs - many of them stitched and on display. I'm not sure what it was, bit I found this stand very disappointing - none of the stitched pieces made me want to stitch them. Perhaps this stand just suffered from being next to the West End stand. But the woman who was looking after it just didn't seem interested either, and wasn't interested in chatting to punters like me!
I also did a couple of practical projects with the Cross Stitch Guild and thoroughly enjoyed both. They aren't exactly big, spectacular pieces, but I just enjoyed doing them and finished them at home over the weekend (photo below). It was lovely to wander around the show looking at everything and then to sit down and do some stitching at chat to people before going off for another wander.
I also made one or two discoveries of pieces and designers I liked such as
Sue Hawkins
and
the Calico Cat
(can't get into that website right now).
I bought my son a small beginners cross stitch kit as he is always interested in my stitching and wants to help - when I gave it to him he insisted on starting immediately!
Of course, I also bought quite a few things which I'm really looking forward to getting started on, but I'd better finish off at least one of the pieces I'm currently working on before I do. I rather suspect that my mother is going to get an all stitched Christmas present.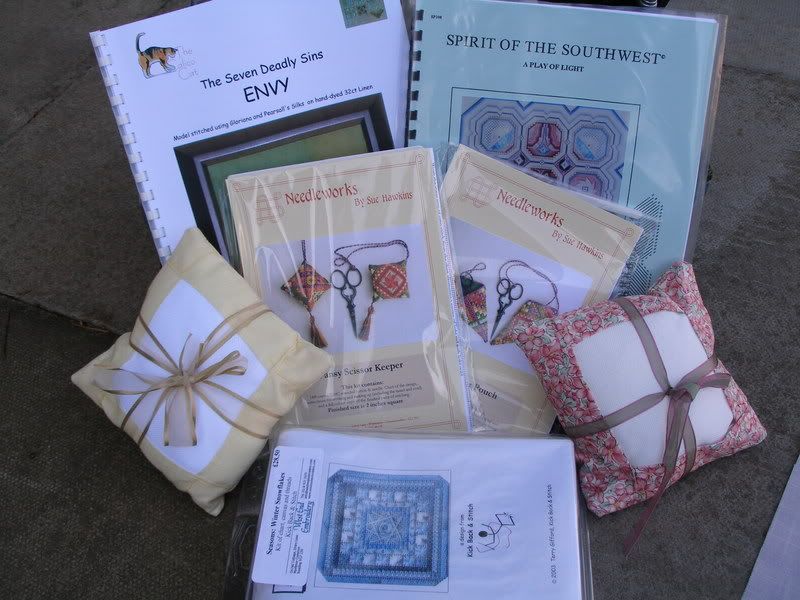 Stash from West End Embroidery, Sue Hawkins, the Calico Cat.
When I got home, I couldn't believe just how good and relaxed I felt - it was so good just to have the day to myself. I'll have to do that sort of thing more often!