I had a wonderful surprise waiting for me when I came home from work last Friday. Look what the postman had brought me!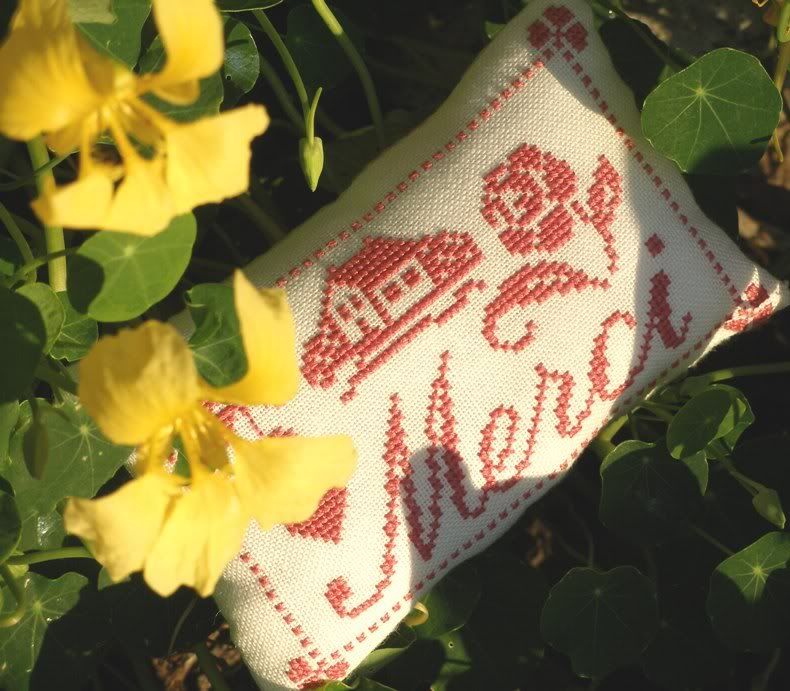 Isn't it beautiful? Thank you so much to
Cheryl
who made it for me, the reason being that I suggested the new name for her blog. I was so chuffed when she chose my suggestion and I'm even more chuffed to receive such a beautiful pin cushion!
I made a good bit of stitchy progress last week. Firstly, I posted my squares to
Julie
in the
Fair & Square
exchange. I seem to have made really heavy going of stitching my blocks and it was quite a relief to get them into the post. I hope Julie likes them!
For a bit of light relief, I then stitched a few more blocks on Nova and was really pleased to complete row B and start on Row C. I really enjoyed stitching on Nova - it's my project with absolutely no deadlines attached to it at all and it's such a relief to be able to pick it up and put it down as and when I feel like it.
I've now cut my WIPs back to a minimum. I think that over the last few months, I've just been trying to do far too much all at once, even if the deadlines are mainly self inflicted. I'm even considering putting St. Petersburg on hold long term as I just can't face it.
The only bit of deadline related stitching I will be doing is in the
Heartfelt Friends RR
. I even made a small start on Cheryl's RR at the weekend. However, if I keep to the deadlines on the RR, then I should have plenty of time for each piece. At least today I'm feeling a bit more in control!
I also want to say a really big THANK YOU to everyone for all their good wishes after my last post. I'm still feeling a bit rough, but dealing with it better and promising to take the odd day off work (like yesterday) to give myself a bit more relaxing 'me time'. So thanks again to all of you.