This is what I love about Carol Tinson's designs - you're challenged as a stitcher to learn new stitches and techniques in order to complete her beautiful designs.
My current favourites in the Mystery Huswif are the Spiders Web Roses.
You can see instructions at
http://www.hand-dyedfibers.com/spider.html
Before I completed my first one, I was a little worried about what would happen if my thread got twisted while I was making the rose. I railroad all my top stitches and sometimes the bottom ones too (depends how the thread is behaving), and I didn't want to spoil the effect of the roses with twisted thread. However, I soon realised that it really doesn't matter. In fact, a little twisting can add extra texture to the rose and even improve the look of the end result. The main thing to do when stitching these stitches is to have plenty of thread on your needle!
The main point with this stitch is not to get your tension too tight - then I think you would have difficulty with the texture and overall look of the rose.
I've nearly finished part 1 now, although part 2 arrived by email earlier this week. Here's where I've got to so far.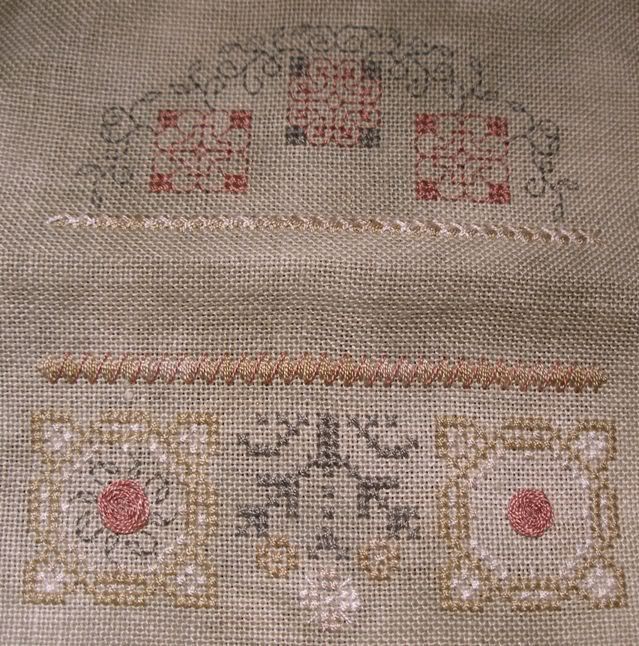 The photograph makes the colours look much lighter than they are in real life.
I've switched around some of the colours - I think the HDF Hazelnut is my least favourite. I've also left out the alphabet in the centre but have one or two ideas for other things to put in that band, as well as in the alphabet bands of part 2.
I just have to finish the leaves on the right hand rose and a herringbone band below, then I'll be ready for part two!
Ooh - and I've even managed a stitch or two on Nova this week!