So, the challenge was, how could I get a scroll frame big enough for my fabric for St Petersburg? 411 stitches is almost 30 inches on 28 count fabric, and then you've got to add on at least 3 inches around the edges!
I know it's possible to buy frames of 40 inches and more, but I haven't seen any online in the UK and it just didn't seem worth buying that sort of thing from overseas. After seeing a post on a message board, I decided to make one myself.
At home I have a table/lap frame (an ebay win) which I didn't really use as the frame part of it hasn't been a good enough size for the pieces I've been working on recently. If I could make myself some long scroll rods for it, then it would be perfect to use for St Pete.
So, first I checked the diameter of the rods currently in the frame (19mm) to work out roughly what I'm after. Then off to my nearest B&Q where I bought a 2.4 metre long piece of 18mm pine doweling.
On the way home from B&Q, I popped into Dunelm and bought 3m of 1 inch curtain header type of tape.
On the living room floor, I measured the rod and marked the middle. Next, out to the garden and a rummage in the garage (with advice from husband) to find a small saw and cut the dowel into two pieces.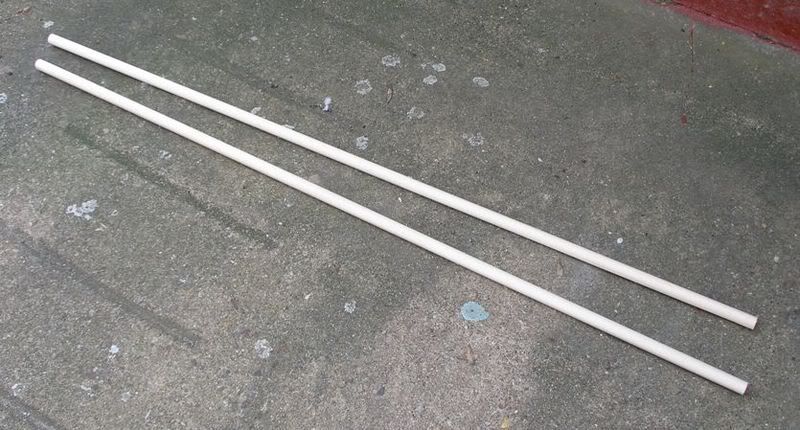 Back inside again, I dug out a box of coloured drawing pins, cut the curtain tape into convenient sized lengths, fastened the tape to the rods with the drawing pins. Hammer required I realised after my thumbs got rather sore pressing the drawing pins into the first rod!
Things were looking good and I was starting to get excited!
Out with the sides and legs of the frame. I'd suspected that the rods might be slightly loose fitting in the frame, and I was right. They were so loose, they wouldn't stay in! So, out with the masking tape and a few layers round the ends of the rods had them fitting perfectly!
Finally, out with St Pete and some thread and I stitched the fabric to the curtain tape.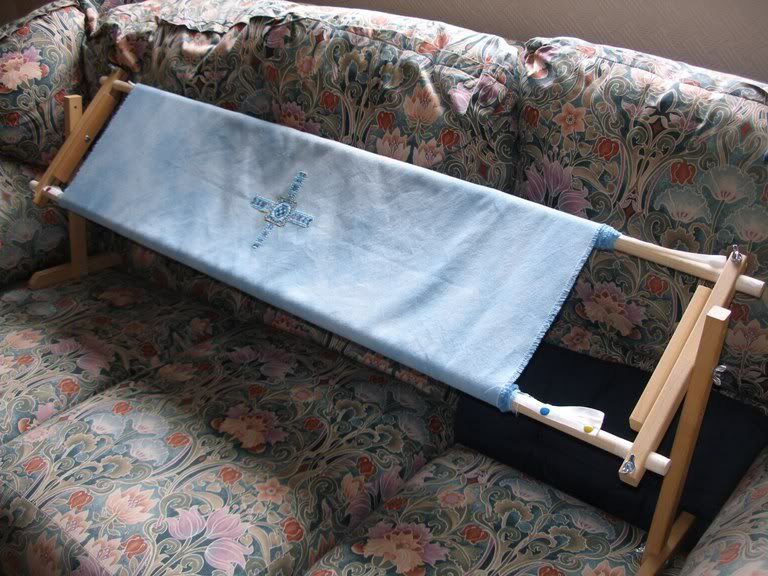 What do you think of the end result? Personally, I'm dead chuffed!
And I can't believe I have a scroll frame almost as big as my couch!
Oh, and St Pete now has significantly more stitching on it than in the picture!