I love speciality stitches! They are often an important factor in what draws me to a design or designer's work. I love the way they add texture to a piece, the way the light reveals different parts of the stitch or highlights the thread in different ways.
It's one of the things I really like about
Carol Tinson's
designs.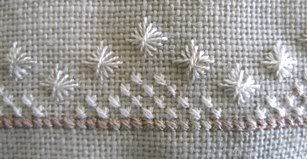 Rhodes diamonds in Carol's huswif.
The range of embroidery stitches to try is immense and to date, I've been rather limited in my experience. I've come across
Sharon Boggon's
classes at
Joggles
, particularly her "Develop a Personal Library of Stitches" and I've drooled over the idea of taking her "Encrusted Crazy Quilting" class, but I've never got there, whether through lack of confidence, laziness, or lack of time. I also regularly read up on her "
Take a Stitch Tuesday
" challenge which gives a fantastic introduction to many stitches and how you can use them.
Last weekend I set out to explore some stitches with a piece of linen, some perle cotton, and a little stranded cotton.
This is the end result and I had a lot of fun! It is still a work in progress, and will probably continue to be so until I fill the entire fabric.
Some of the stitches I've come across before - the Rhodes diamond, spider's web rose (woven wheel), chain and blanket stitch. Many of them are also completely new to me - the interlaced herringbone, lattice, Queen stitch.
I know many of the stitches are a bit irregularly shaped or lopsided - the point of the exercise was to learn about how the stitches are constructed, not to get them perfect.
The Interlaced Herringbone was a bit tricky. I still haven't got the underlying herringbone quite right. But I do love the effect of it, particularly when I've used such contrasting colours.
The Queen stitch I'm a bit disappointed with, it just doesn't grab me at all.
I'm also working speciality stitches into Nova which is mainly stitched in Scotch, Mosaic and Tent stitch. Some of the blocks are simple tent stitch in one colour representing quiet areas of the design. There are roughly one or two of these blocks in each row. Now, I want to keep those areas relatively quiet and will minimise the introduction of new thread colours, but what I am going to do is, in something like one block per row, use a speciality stitch for one of these blocks. In this way, I'll also learn new stitches and techniques.
For the first row, I've used Rice Stitch, mainly because at the time I wanted to use a stitch I was already familiar with, but to use it on a larger scale.
Next row, Norwich stitch, I can't wait to give it a go!