Last week, I started Watergarden by Martina Weber of
Chatelaine Designs
.
It really is a lovely design, with beautiful shades of blue. It will be my first large Chatelaine design, although I have completed one of her freebies, Tiny Rose Garden. Watergarden is considerably larger than the freebie, at 237 x 237 stitches, working out at 14.8 x 14.8inches stitched over two on 32 count fabric.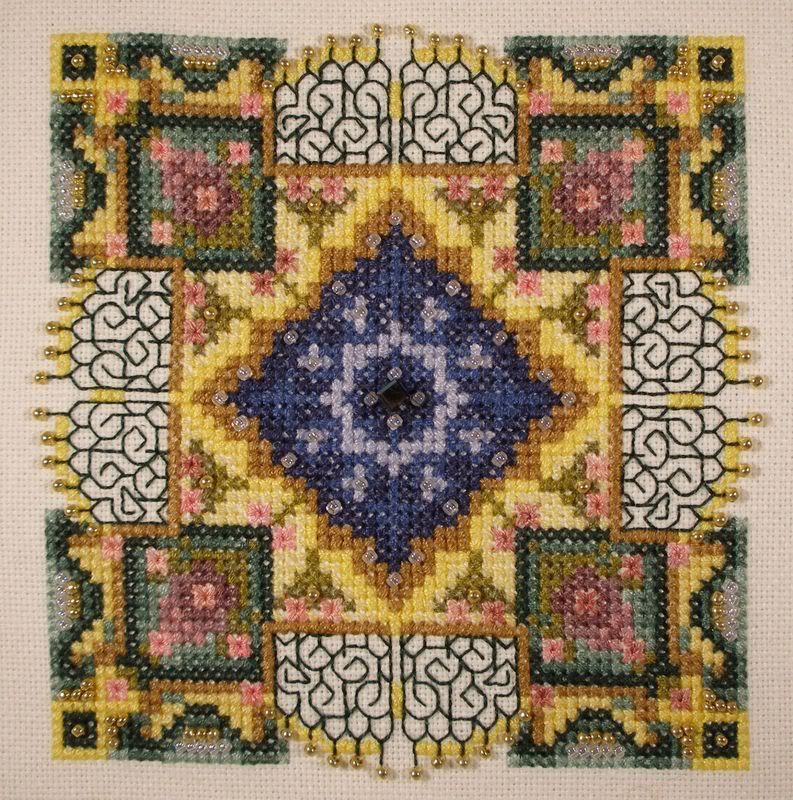 I bought my chart directly from Martina Weber, the designer, via her website,
Chatelaine Designs
. This is an instant access chart where, after payment, you are sent a hyperlink to the area of the website to download the chart. A password is also provided. At the time when I purchased my chart, Martina was having problems with her ISP and was in the process of moving to a new server. She warned me initially of the problems she was having and when the link she sent me didn't work, I contacted her. She couldn't have been more helpful in ensuring I got my chart, even sending a copy by email and following up with a new download location.

The file I received was a zip file containing 5 pdf documents and a jpg image. To view the pdfs,
Adobe Reader
is normally required. The jpg image can be viewed a number of ways, through image viewers, web browsers or even by pasting into a word processed document. The files are:





General instructions




Materials list




Black and white chart




Colour chart




Introductory note




Image of the design



The general instructions include any detailed instructions for specialist stitches to use and for beading.

Unlike many Chatelaine designs, Watergarden uses many DMC threads as well as silk thread from Needlepoint Inc, Caron Collection, Thread Gatherer and Rainbow Gallery Petite Treasure Braid. The design also requires 11 colours of Delica beads, and two shades of Swarovski crystals.

Materials lists for all Chatelaine designs can be viewed at the
Chatelaine Supply Lists
website. The American distributor for Chatelaine Designs,
European Crosstitch Company
, also supplies kits for those designs available.

It is possible to use DMC threads for this design rather than the Needlepoint Inc silks as the conversion is given with the materials list. In my case, however, I've chosen to follow Martina's recommendation and use the NPIs as I've never used them before. My fabric is Zweigart 32 count Murano - Lurex fabric in pearl flecked white (bought from
Sew and So
). I bought the beads and silks threads from
European Crosstitch Company
.


Week 1 WIP.


To be continued ...........